CLEARANCE - Houdini Opening Book
Product Code: WIN0124CV Description
Houdini Opening Book provides latest chess theory approved in millions of advanced chess games and matches of top human players. It includes over 65 million positions.
Houdini Opening Book was developed especially for Houdini, but can be used with any other engine in the Aquarium interface, as well as in other interfaces (such as Fritz) via Aquarium Book Adapter included on this DVD.
Houdini Opening Book is a thoroughly researched and up to date collection of modern opening lines. It can be used as an opening book in chess engine matches, an opening guide in correspondence chess, as well as a source for general opening studies and tournament preparation by players at all levels.
The opening book is based on a careful selection of the most important theoretical games, both by human players and chess engines. All variations were carefully reviewed and moves were classified and color coded with green color (recommended moves), red (not recommended), blue (recommended for human tournaments but not computer tournaments) and black (neutral moves). If you want to build a successful opening repertoire, based on active but solid lines, this is the opening book for you!
As a special bonus from ChessOK, the book includes chess trees (positional databases) containing computer evaluations of the moves in the book and statistics showing their popularity in human games and in correspondence play. The trees also show changes to the popularity of moves in the past year.
The book is specially designed to use all the advantages of navigation in multi-column tree view of the Aquarium GUI.
The author of the book is Roger E. Zibell.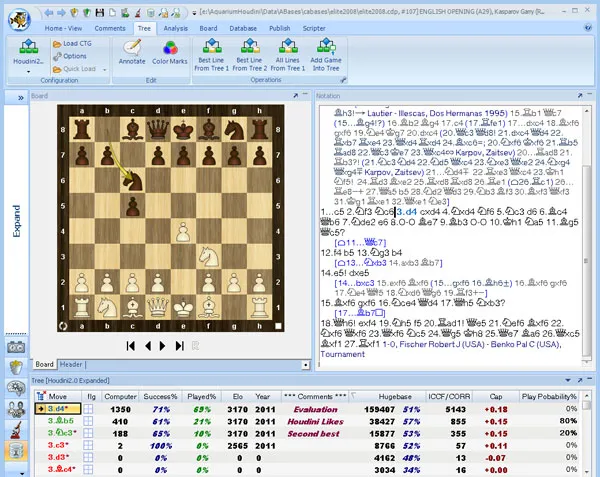 System requirements: 256MB RAM, 4.0GB of free disk space, PC, Windows XP/Vista/7, Aquarium or other playing interface.
Return Information for Software & DVDs
Computer Software and DVDs can only be returned or exchanged if the product is in its original,sealed packaging and has not been installed or used in any way. Once you open the packaging of a Computer Software or DVD title, it can only be exchanged for the same title if the original media is defective. There are NO exceptions to this rule.

Returns & Exchanges
This is a Specialty Item and All Sales are Final. No refunds, returns or exchanges are allowed.

Requires Windows
PC, 256 Mb RAM, 4GB of free disk space, Windows 7/XP/Vista, Aquarium or other playing interface.
Media Mail Eligible
Media Mail® shipping from the US Postal Service is the cost-effective way to ship Books, Software and DVDs. With shipping rates starting at only 4.00, it's the most affordable shipping method available.