CLEARANCE - Complete Chess Course
Product Code: WIN0080CV
Description1
The Ultimate Chess Course! The chess experts at Convekta are proud to introduce the Complete Chess Course, the ONLY instructional program that covers all aspects of the game - Opening, Middlegame and Endgame. It features 55 different lessons, with more than 1,200 instructional examples and exercises.

With the Complete Chess Course, you will drastically improve your play by studying, practicing and completing the carefully selected examples and exercises.

* Study the training materials and test your knowledge
* Review your rating history
* Keep track of the progress of multiple users, allowing you to compete against friends and family members

System Requirements: IBM-Compatible PC, 64 MB RAM, Hard Drive with 50 MB of free space, Windows 7/VISTA/XP, CD-Rom Drive. No additional software is required.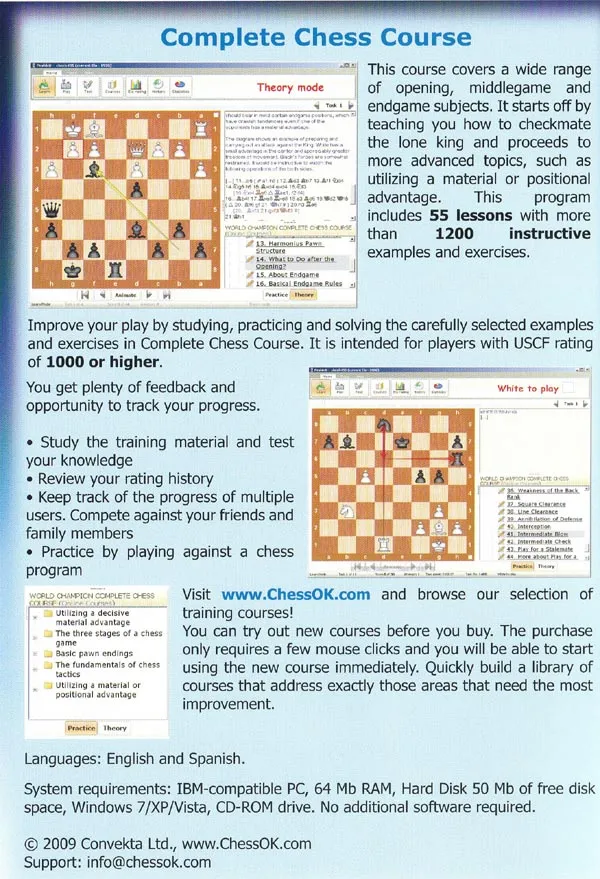 Return Information for Software & DVDsComputer Software and DVDs can only be returned or exchanged if the product is in its original,sealed packaging and has not been installed or used in any way. Once you open the packaging of a Computer Software or DVD title, it can only be exchanged for the same title if the original media is defective. There are NO exceptions to this rule.

Returns & Exchanges
This is a Specialty Item and All Sales are Final. No refunds, returns or exchanges are allowed.

Requires Windows
IBM-compatible PC, 64 Mb RAM, Hard Disk 50 Mb of free disk space, Windows 8/7/XP/Vista. No additional software required.
Media Mail Eligible
Media Mail® shipping from the US Postal Service is the cost-effective way to ship Books, Software and DVDs. With shipping rates starting at only 4.00, it's the most affordable shipping method available.