Description
"A robust and striking set of Chessmen, designed to replicate the feel and old world craftsmanship of the early Staunton Chess sets that were produced by the legendary firm Jaques of London in 1850."
The House of Staunton is proud to offer the Morphy Series Chess set. A full club-sized Chess set, it features a 4.4" King with a 1.875" diameter base. The Chess pieces are hand carved by our master artisans and crafted out of the highest grade woods. The Chess pieces are heavily weighted with gold embossed English Leather base pads under the Kings, luxurious billiard cloth base pads on the other Chess pieces and a beautiful finish. The design of the Morphy Chess set is a reintroduction of a design produced by the legendary Jaques of London firm between 1850 and 1851. The form, board presence and exquisite craftsmanship of these magnificent chessmen have been recaptured and are offered to you. The chess set is massive in its proportions and is far superior to any production Staunton pattern chess set available today at ANY PRICE! The Morphy Series Chess set is ideal for those that are interested in an heirloom quality Chess set that features classical Staunton design with unsurpassed carving and attention to detail.
As with all of our Chess sets, the Morphy Series exemplifies a perfect combination of distinct beauty and functionality. It has been designed to withstand the rigors of practical play while maintaining an elegance which has become the hallmark of a House of Staunton chess set. The design, quality and craftsmanship of this set is UNMATCHED by any set of Chessmen in its price range. Nothing even comes close!
The Chessmen are new and each set consists of 34 Chessmen, including four Queens, a standard that was introduced by The House of Staunton in 1993.
The Chess Set comes with a personalized Certificate of Authenticity and an original manufacturer's plaque indicating the production number, with an adhesivebacking that would allow it to be affixed to the underside of a Chess box.

Our Original Manufacturer's Plaque
Click for Higher Resolution Image.
Now Available From The House of Staunton
Included with the purchase of these Chessmen is our new Original Manufacturer's Plaque. Crafted from brass, these plaques feature the engraved production details of each individual Chess set, creating a beautiful, permanent record that is truly worthy of House of Staunton-brand Chessmen.
History of the Chess Pieces
Paul Morphy, of the United States, is widely regarded as one of the greatest and most tragic Chess players of all times. He was considered the first true child Chess prodigy, having repeatedly defeated the strong Hungarian chess master Johann Löwenthal at the age of twelve. Over the next seven years, Morphy focused his attention on his education. At the age of 19, when he graduated from the University of Louisiana with a degree in law. Not yet the legal age to begin the practice of law, Morphy found himself with free time and returned to Chess.
Over the next 3 years, Morphy traveled all over the world and handily vanquished any and all opponents who dared face him. The first "Chess celebrity", many media outlets proclaimed him the unofficial World Chess Champion. Shortly afterwards, at the age of 22, Morphy announced his retirement from the game of Chess, citing the lack of serious competition. After retiring from Chess, Morphy planned on focusing on his chosen career, the practice of law. Unfortunately, this was disrupted in 1861 by the outbreak of the American Civil War, where he strongly opposed the succession of the Confederate states. After the war ended, Morphy had very little success with his law practice. The few potential clients who visited his office were more interested in discussing Chess than the law. Frustrated, Morphy retired from the practice of law and spent the rest of his life in idleness. He refused all requests to return to the game of Chess and died at the age of 47. Paul Morphy is commonly referred to as "The Pride and Sorrow of Chess."
Layaway Available
We're proud to offer our new Layaway program!
With Layaway, purchasing from us has never been easier or more affordable. It allows you to purchase selected House of Staunton products by making payments over time.
Simply choose the items that you wish to purchase and how many months you wish to make the payments over.We'll automatically charge your debit/credit card each month. Once you've paid for the item/s in full, they'll be sent to you. It's that simple!

Laser Engraving

NOW AVAILABLE - PERSONALIZED CHESS BOXES!

Are you looking to make that Chess gift special and something they will cherish forever?
The House of Staunton is proud to offer Personalized Engraving that will allow you to customize your chess box with your personal message,creating a truly unique gift that they will be sure to love.
Gift engraving is perfect for many memorable occasions, for corporate branding or simply to offer a special gift to your friends and family.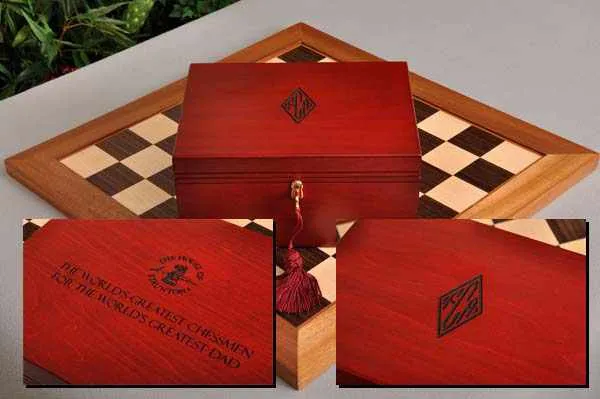 Personalized Gifts are great for...
BIRTHDAYS
ANNIVERSARIES
GRADUATIONS
WEDDINGS
NOTABLE ACCOMPLISHMENTS
JUST BECAUSE YOU CARE!
Why choose The House of Staunton to personalize your Chess Gift?
Unlike the engraving shop at your local mall, the House of Staunton doesn't not charge you up to $3.00 per character for engraving.
Our prices are very affordable, with text engraving starting at just $25.00 Per Line (up to 60 Characters). We use an industrial-grade Laser Engraver that allows us to achieve an incredible amount of detail in our engravings.
Your gift should say what you want it to say and not be limited by how much it costs you to say each of those words!
Note: Only Premium Chess Boxes and Fitted Coffers can be Personalized with engraving directly on the wood.

***Olive Ash Burl, Bubinga Burl & Macassar Ebony Premium Chess Boxes cannot be engraved due to the high gloss finish.***

All other Chess Boxes, including the Fitted Briefcase, will come with a laser-engraved brass plaque when personalized.
Included with Purchase
Certificate of Authenticity
Engraved Registered Plaque
Individual Production Number
Product Details
Additional Information
| | |
| --- | --- |
| Chess Board Included? | You Get to Select Your Own Chess Board |
| Manufacturer | The House of Staunton |
| King Height | 4.0'' inch / 10.16 cm |
| King Base Diameter | 1.875'' inch / 4.76 cm |
| Recommended Chess Board Size | 2.375'' inch / 6.0 cm, 2.5'' inch / 6.4 cm |
| Basepad Material | Billiard Cloth |
| Median Set Weight | 67.4 Ounces |
| Total Number of Chess Pieces | 34 Chess Pieces, including 2 Additional Queens (for Pawn Promotion) |