Description
The House of Staunton is proud to introduce our newest masterpiece - The Strand Timeless Series Chessmen. Part of our Timeless Collection, it is exact reproduction of one of the most famous Chess sets in the world, the Circa 1820 Grand Cigar Divan Pre-Staunton Pattern Chessmen. These Chessmen feature a 4.4" King with a 1.65" Diameter base and are very heavily weighted. These Chessmen are an exact match to the original Chessmen, down to the smallest details!
The Chess pieces are hand carved by our master artisans and crafted out of the highest grade woods. The Chess pieces are heavily weighted with luxurious billiard cloth base pads on the other Chess pieces and a beautiful finish. The design of the
Strand

Series
Chess set embodies the form, board presence and craftsmanship of one of the most celebrated turn-of-the-century designs from Jaques of London. The House of Staunton has recaptured the essence of these magnificent Chessmen and made them available on a very limited basis.
The most striking aspect of the
Strand
Series Chess Set is the beautiful patina on the Boxwood (White) Chessmen. Our artisans have accurately captured the rich, golden color commonly found on well preserved antique Chess sets. As with all of our Chess sets, the
Strand
Series exemplifies a perfect combination of distinct beauty and functionality. It has been designed to withstand the rigors of practical play while maintaining an elegance which has become the hallmark of a
House of Staunton
chess set. The design, quality and craftsmanship of this set is UNMATCHED by any set of Chessmen in its price range. Nothing even comes close!
The Chessmen are new and each set consists of 34 Chessmen, including four Queens, a standard that was introduced by The House of Staunton over 10 years ago.
The Chess Set comes with a personalized Certificate of Authenticity and an original manufacturer's plaque indicating the production number, with an adhesive backing that would allow it to be affixed to the underside of a Chess box. Each set consists of 34 Chessmen, 17 light and 17 dark (including the two additional Queens.)
FINANCIAL COMPARISON
There is only one Original
Circa 1820 Grand Cigar Divan Chess Set with a 4.4" King
in existence in the world and it is on display at the legendary
Simpson's-On-The-

Strand
in London, UK. Here's your opportunity to purchase an exact reproduction of these legendary Chessmen, in Pristine Condition.
Layaway Available
We're proud to offer our new Layaway program!
With Layaway, purchasing from us has never been easier or more affordable. It allows you to purchase selected House of Staunton products by making payments over time.
Simply choose the items that you wish to purchase and how many months you wish to make the payments over.We'll automatically charge your debit/credit card each month. Once you've paid for the item/s in full, they'll be sent to you. It's that simple!
Limited Warranty
The House of Staunton warranties this item to be free from manufacturing defect for a period of one year from the date of purchase.
Please click here to download a copy of our warranty and guide to caring for your House of Staunton Chess Pieces.

Laser Engraving

NOW AVAILABLE - PERSONALIZED CHESS BOXES!

Are you looking to make that Chess gift special and something they will cherish forever?
The House of Staunton is proud to offer Personalized Engraving that will allow you to customize your chess box with your personal message,creating a truly unique gift that they will be sure to love.
Gift engraving is perfect for many memorable occasions, for corporate branding or simply to offer a special gift to your friends and family.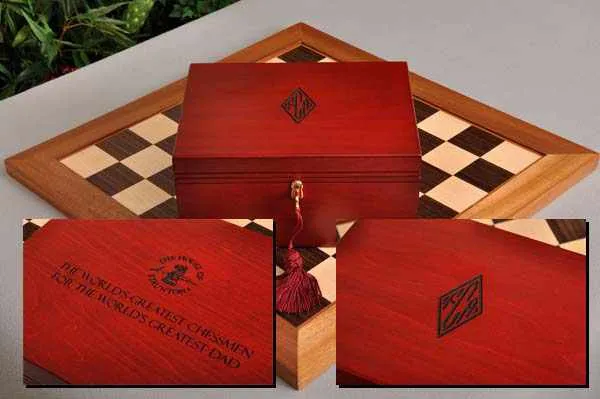 Personalized Gifts are great for...
BIRTHDAYS
ANNIVERSARIES
GRADUATIONS
WEDDINGS
NOTABLE ACCOMPLISHMENTS
JUST BECAUSE YOU CARE!
Why choose The House of Staunton to personalize your Chess Gift?
Unlike the engraving shop at your local mall, the House of Staunton doesn't not charge you up to $3.00 per character for engraving.
Our prices are very affordable, with text engraving starting at just $25.00 Per Line (up to 60 Characters). We use an industrial-grade Laser Engraver that allows us to achieve an incredible amount of detail in our engravings.
Your gift should say what you want it to say and not be limited by how much it costs you to say each of those words!
Note: Only Premium Chess Boxes and Fitted Coffers can be Personalized with engraving directly on the wood.

***Olive Ash Burl, Bubinga Burl & Macassar Ebony Premium Chess Boxes cannot be engraved due to the high gloss finish.***

All other Chess Boxes, including the Fitted Briefcase, will come with a laser-engraved brass plaque when personalized.
Included with Purchase
Certificate of Authenticity
Engraved Registered Plaque
Individual Production Number
Product Details
Additional Information
| | |
| --- | --- |
| Chess Board Included? | You Get to Select Your Own Chess Board |
| Material(s) | Antiqued Boxwood, Genuine Ebony |
| Manufacturer | The House of Staunton |
| King Height | 4.4'' inch / 11.18 cm |
| King Base Diameter | 1.65'' inch / 4.19 cm |
| Recommended Chess Board Size | 2.25'' inch Squares / 5.7 cm, 2.375'' inch / 6.0 cm |
| Basepad Material | Billiard Cloth |
| Median Set Weight | 43.2 Ounces |
| Total Number of Chess Pieces | 34 Chess Pieces, including 2 Additional Queens (for Pawn Promotion) |