This training course contains
77,000 mate in one exercises
taken from practical games with many pieces still on the chessboard.
Elementary Checkmates II
is an excellent tool for speed training with players of all skill levels. Even if you are only study and solve a small percentage of these exercises, you will learn a huge number of mating patterns and will likely never overlook a mate in 1 again!
* Study the training materials and test your knowledge
* Review your rating history
* Keep track of the progress of multiple users, allowing you to compete against friends and family members
System Requirements:
IBM-Compatible PC, 64 MB RAM, Hard Drive with 50 MB of free space, Windows 7/VISTA/XP, CD-Rom Drive. No additional software is required.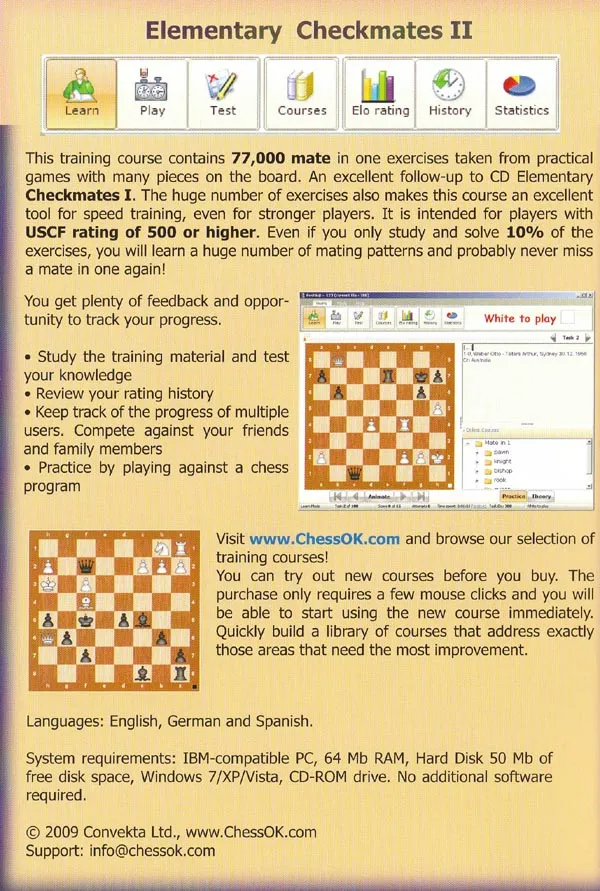 Return Information for Software & DVDs
Computer Software and DVDs can only be returned or exchanged if the product is in its original,sealed packaging and has not been installed or used in any way. Once you open the packaging of a Computer Software or DVD title, it can only be exchanged for the same title if the original media is defective. There are NO exceptions to this rule.