This is the perfect opening manual! It features a
theoretical review of all the chess openings
, which are illustrated by instructive games of the greatest chess players. This compact opening manual contains a detailed classification, which makes it useful to players of all skill levels, from beginners to advanced players.
The history of the variations' development is described, as well as their current status. The theoretical material is nicely illustrated by classic games with detailed annotations that demonstrate the principal ideas and plans of each variation for both white and black.
There is also a special training section with more than
350 exercises
of various difficulty on 40 of the most common openings used in competitive chess.
With Opening Lab, you'll be able to track your progress and receive feedback from the software.
* Study the training materials and test your knowledge
* Review your rating history
* Keep track of the progress of multiple users, allowing you to compete against friends and family members
System Requirements:
IBM-Compatible PC, 64 MB RAM, Hard Drive with 50 MB of free space, Windows 7/VISTA/XP, CD-Rom Drive. No additional software is required.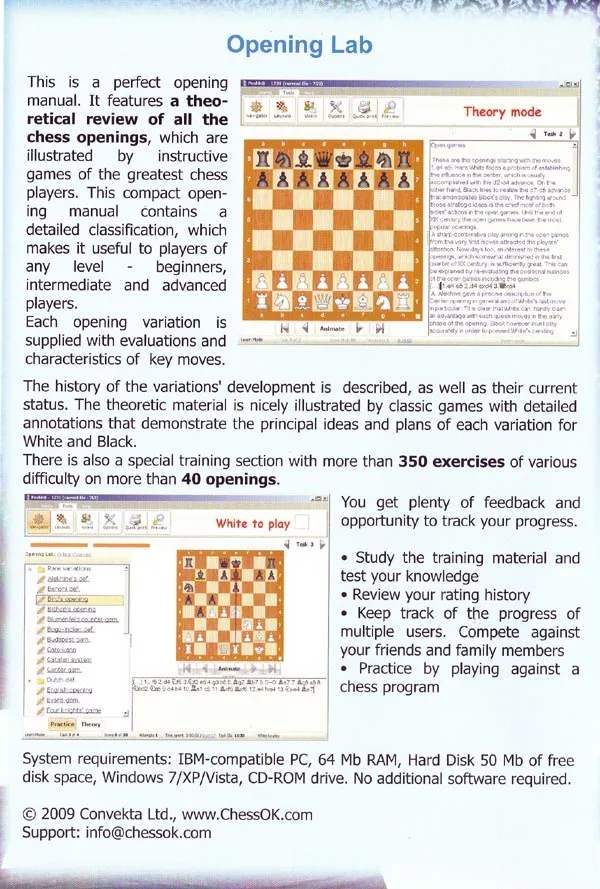 Return Information for Software & DVDs
Computer Software and DVDs can only be returned or exchanged if the product is in its original,sealed packaging and has not been installed or used in any way. Once you open the packaging of a Computer Software or DVD title, it can only be exchanged for the same title if the original media is defective. There are NO exceptions to this rule.