Rating
: 1400-1800 ELO
Difficulty
: Club and Intermediate player
Combinations for Club players is an indispensable training tool for club players. Improve your play by solving exercises with Combinations. Its ease of use let's you focus on what matters most: your improvement.
This course includes more than 2000 exercises on the following topics:
* Annihilation of Defense
* Decoy
* Intercept
* Distraction
You get plenty of feedback and opportunity to track your progress.
* Study the training material and test your knowledge
* Review your rating history
* Keep track of the progress of multiple users.
* Compete against your friends and family members
* Practice by playing against a chess program
System requirements: IBM-compatible PC, 64 Mb RAM, Hard Disk 50 Mb of free disk space, Windows 7/XP/Vista. No additional software required.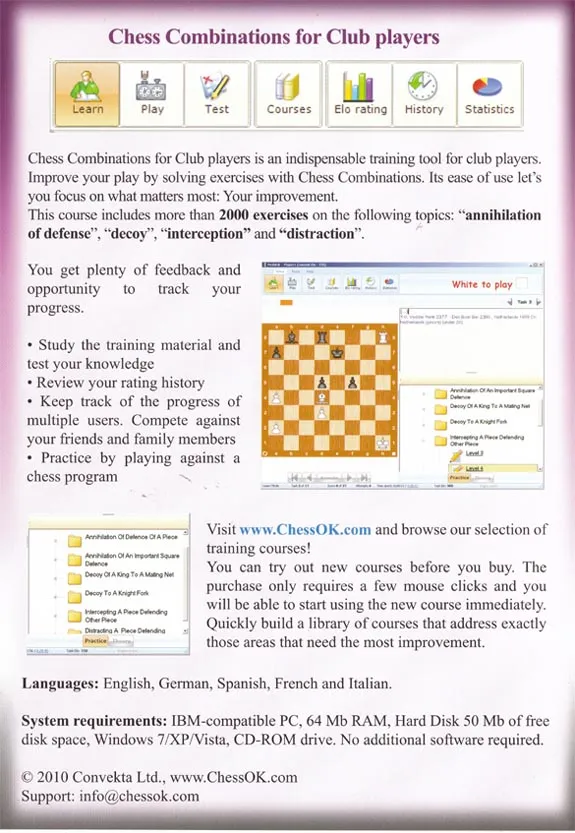 Return Information for Software & DVDs
Computer Software and DVDs can only be returned or exchanged if the product is in its original,sealed packaging and has not been installed or used in any way. Once you open the packaging of a Computer Software or DVD title, it can only be exchanged for the same title if the original media is defective. There are NO exceptions to this rule.