In Partnership with Musketeer Chess
The Musketeer Chess Variant Kit, which features Cannon and Leopard Pieces, is an exciting, new way to play Chess! Use these pieces with your favorite set of chess pieces and play Musketeer Chess! Each kit comes with a total of 4 plastic chess pieces - Black Cannon, Black Leopard, Natural Cannon, and Natural Leopard.
Rules for Musketeer Chess can be downloaded at
www.musketeerchess.com
. The new chess pieces are designed to be Staunton-compatible, hence can easily be used as replacements or substitutes to customize classic Staunton pattern chess sets or create your own chess variant.
---
Leopard:
Similar to the Knight, it is classified as a leaper. It can move by jumping like a Knight or slide like a Bishop diagonally in an unobstructed path. When sliding diagonally, the Leopard moves only by one or two squares in any direction (see diagram below).
The Leopard cannot move orthogonally. It can control a maximum of 16 squares. Compared to the Cannon (see below), it has almost the same value, but it appears to be slightly more aggressive, as it has the ability to "sweep" forward more squares. It can checkmate without any help.
From d4, the Leopard can control 16 squares: It can leap to c2, b3, e2, f3, b5, c6, e6, f5. It slides to: c3, b2, c5, b6, e5, f6, e3, f2.
PGN Notation: Le
Cannon:

The Cannon is classified as a leaper. It can leap two squares orthogonally in any direction. But it can also leap like the Knight, only moving 1 square forward then 2 squares horizontally. The Cannon can also move like the King, one square in any direction.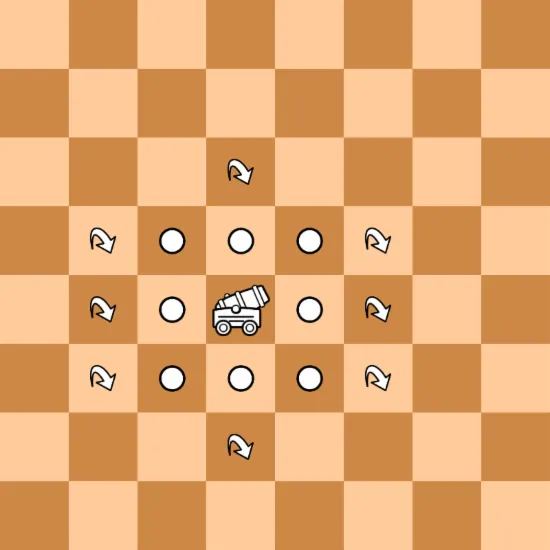 From d4, the Cannon can control 16 squares: It can leap to d2, d6, b4, b3, b5, f4, f3, f5, It slides to: c3, c4, c5, d3, d5, e3, e4, e5.
PGN Notation: Ca