CLEARANCE - Pocket Chess Internet
Product Code: WIN0077CV
Description
Do you have a PocketPC and want to play chess via the internet with players from around the world? If so, you need Pocket Chess Internet from Convekta. Unlike other internet playing services, there are NO ANNUAL FEES - once you have purchased the software, you will have a lifetime membership to one of the top Internet chess portals - ChessOK. Designed by the experts of Conveka, it offers the most advanced interface for PocketPC and offers everything that you have come to expect from an internet chess service: Playing, Chatting and Watching. At any given time, there are hundreds of people at ChessOK playing Chess, so you'll be able to find a number of different opponents of your skill level. You'll find players from all over the world on ChessOk, from Russia to Raleigh, NC, from India to India, serious chess players looking for a serious game of chess.

If you enjoy playing chess on the internet and are looking for a low-cost, wireless service for your PocketPC - You just found it!

* Includes a lifetime membership to ChessOK, the Internet's leading PocketPC Chess Playing Service

* Offers a revolutionary rating system that accurately assesses your playing level, allowing you to quickly find opponents of a comparable skill level.

* You can watch other people's games, and discuss the game with other observers of the match - Did they overlook a tactic?

System Requirements: Pocket PC with Windows Mobile 2003, 2005 or Pocket PC OS 2002.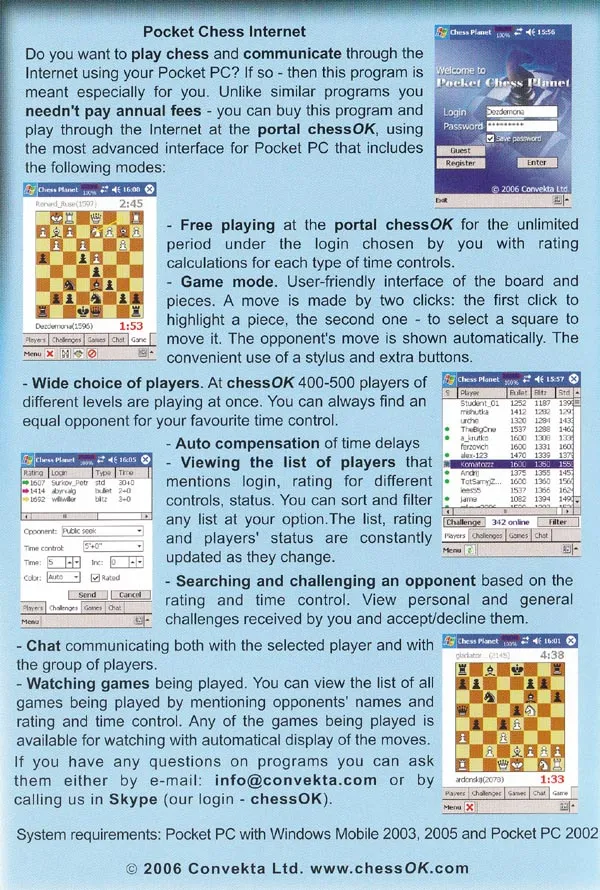 Returns & Exchanges
This is a Specialty Item and All Sales are Final. No refunds, returns or exchanges are allowed.

Requires PocketPC
Pocket PCs with Windows Mobile 2006, Windows Mobile 2005, Windows Mobile 2003 and Pocket PC 2002. Installation requires a PC.
Media Mail Eligible
Media Mail® shipping from the US Postal Service is the cost-effective way to ship Books, Software and DVDs. With shipping rates starting at only $5.00, it's the most affordable shipping method available.