CHESSBASE TUTORIALS - The Open Games - VOLUME 1
Product Code: WIN0280CB
Description
Today's way to learn chess! The ChessBase Tutorials are a new series in the publishing program ofChessBase. Every issue will consist of a DVD and a detailed accompanying booklet. The many readers of ChessBase Magazine have already come to appreciate this concept. The accompanying booklet offers both a survey and rapid starting point for the study of the individual opening variations. And then you will findon the DVD the extensive video lectures delivered by various top class trainers and grandmasters.
Every game starts with an opening - and sometimes that is even as far as it gets. That doesn't have to be the case.With ChessBase Tutorials you do not need to spend a lot of time getting up to speed. "Openings # 01: The open games (1.e4 e5)" is the first installment ina series of five volumes about the fundamentals of chess openings. In it,experienced tournament players and experts in the individual openings tell you what you absolutely have to know in each specific area, which basic plans require to be followed, how to execute them and what traps have to be borne in mind. In 24 video lectures Adrian Mikhalchichin, Lawrence Trent, Lars Schandorff and Valeri Lilov show you what you really need to know about the King's Gambit, the Vienna Game, the Giuoco Piano, the Evans Gambit, the Two Knights Game, the Scotch, the Steinitz and Berlin Defences, the Open Ruy Lopez or the Exchange Variation, the Marshall, the Philidor and the Petroff Defences and many others.
System requirements: PC with Windows XP(SP3), Vista or Windows 7, Windows Media Player and DVD-Drive.

---
The Fritztrainer series, in which grandmasters orchess trainers explain the game of chess with the help of the Chessmedia systemdeveloped by ChessBase, was, when introduced, a totally new and revolutionarystep in the teaching of chess. Suddenly, any chess lover could bring hispersonal trainer home and have the latter explain to him via his own computerhow certain openings are played, how to discover the correct middlegame strategyto use or how to win his endgames.
Manygreat names have contributed to this series. Garry Kasparov - once again - was one of the first to recognize the new possibilities it offered to an author.His DVDs on the Sicilian Najdorf variation impart knowledge at the highestpossible level. His DVD on the Queen's Gambit, on the other hand, also offersnormal chess lovers an instructive introduction to that opening and is already aclassic.

Many great chess players have made use of the Media System to record in videoformat their autobiography. We only know the chess giants of the past, Steinitz,Lasker, Capablanca, Alekhine, etc. from their games, their writings and a fewpictures. On the other hand, the next generation will be able to have explainedon their own screens the best games of Viktor Korchnoi, Vlastimil Hort, VladimirKramnik, Viswanthan Anand, Nigel Short and other great players of the presentday by the very players themselves.

And whereas today's young senior players had to learn painstakingly aboutendgames in their own youth with the help of the four-volume "Cheron",nowadays young people can acquire the necessary knowledge from Karsten Muller,who presents it in a way which makes it easy to remember. And he even does so with the voice of the terminator, as one commentator on the Youtube sample clip by Karsten Muller put it:
"KarstenMueller is just an awesome human chess machine with Arnold Schwarzenegger'saccent. If you wanna learn by the terminator's voice how to play chess, you areset. If it's still not clear: This is the best endgame course ever."
The "Fritztrainer series" has grown to include approx.160 titles you can buy, on almost everything - openings, several training courses, tactics, the endgame - in short everything concerning chess. In addition to the names we have already mentioned, other world-class players have contributed on various subjects. Alexei Shirov has been one of our hardest working authors with numerous game commentaries on specific themes drawn from his own praxis as a super-GM. And the FIDE World Champion of 2004, Rustam Kasimdzhanov, has revealed himself to be a brilliant chess trainer.

Unfortunately the Uzbek grandmaster who lives in the Siebengebirge near Bonn is far too good a player to become a trainer on a permanent basis. Viktor Bologangoes about his DVDs in very classical fashion. He does not demonstrate whole games, but, at a specific position, he finishes off a variation and recommendations for your repertoire, just like in books on the opening.
The new idea for ChessBase Tutorials came about based on the new format of ChessBase Magazine. ChessBase Magazine has always been a publication which consisted of a medium for data (previously a diskette, then a CD, and now for some it has been a DVD) and an accompanying brochure. In 2006 we modernised the concept of the magazine-DVD and concentrated on making it useful for training. The magazine's booklet was extended in 2009 and from then on it has been, just like the DVD,bi-lingual and published in the "twist and turn" format. According to which way up you are holding the booklet, you can be reading either the English or the German text.

Our new, compact and improved magazine (both in content and presentation) was so well received by chess fans that we now want to offer you in our new series of ChessBase Tutorials some special themes in the same format.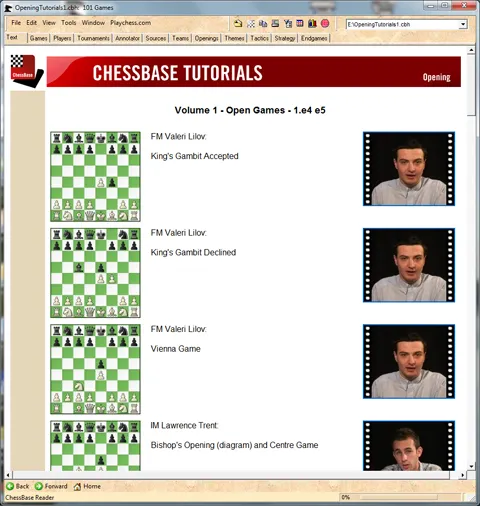 And we are starting with a five volume set on the chess openings with the seriestitle "ChessBase Tutorials Openings". The area covered by the openings has been divided up according to the classical schema.

# 01 - Open games
# 02 - Semi-open games
# 03 - Queen's pawn games
# 04 - Indian openings
# 05 - Flank openings

One volume of the ChessBase Tutorials will be devoted to each of these areas.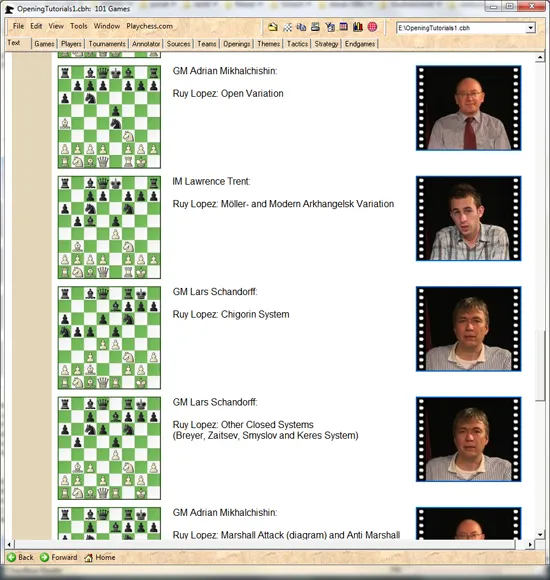 Thefirst volume in the ChessBase Tutorials: Openings # 01 Open games is now available. The second volume, on the semi-open games, will also follow in the course of this year. In volume one a total of eight different authors, four in German and four in English, introduce all the important openings which are classified as open games and provide you with a compact but very informative overview. The task which was set for the authors was to outline in a competent manner their chosen opening in approximately 15 minutes. Anyone who has already done intensive work on the opening knows how easy it is to introduce an opening or a variation in, for example, two hours. However, dealing with the most important information in a mere 15 minutes or so was an enormously difficult challenge, but one which all our authors were well up to.

The goal of the Openings Tutorials, at least in this initial overview series of all the opening complexes, is to convey to the normal club player a maximum of knowledge in a pre-set stretch of time. Due to this very restricted time period,the authors were obliged to concentrate on the essentials. If you view one of these clips, you will be aware after 15 minutes of all that you need to know to make a start in that opening and you will be able to play it without nasty surprises. There is also no need to overload yourself with variations which you will probably never have to face at that depth at normal club level.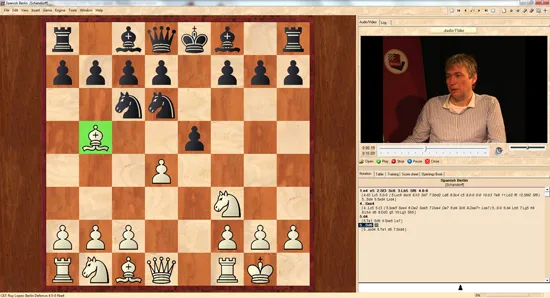 To reach this result, many of the authors were occasionally obliged to do some "overtime" and record the clips several times, until finally the desired result had been achieved. But you will hardly be able to notice this. To have the King's Gambit, the Marshall Attack, the Scotch Game, the Ruy Lopez Exchange Variation and all the other openings under the heading "Open games"explained to you by, as it were, your own "personal trainer" like Jan Gustafsson (several times runner-up in the German championship, member of the national team, national trainer for Denmark), Niclas Huschenbeth (reigning German champion), Dr Karsten Muller (grandmaster and top level trainer) and Elisabeth Pahtz (twice world youth champion) or in English by Lars Schandorff(Danish champion 1988, member of the Danish national team), Valeri Lilov(Bulgarian chess trainer), Adrian Mikhalchishin (reckoned to be one of the bestchess trainers in the world) or Lawrence Trent (IM and participant in the youth world championships) is not only effective, but is frequently also purely andsimply a delight.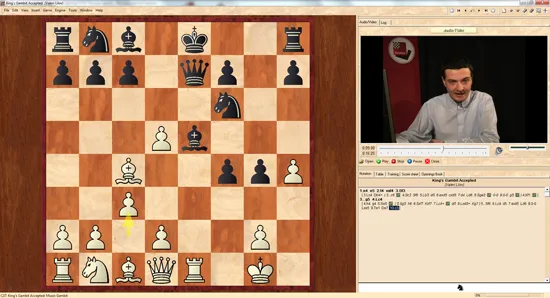 The ChessBase Tutorial also has its booklet. It contains twice 28 pages and in its description of all the openings which are treated in this volume, it supplements the video clips. In its layout, the booklet is strongly reminiscent of the recent booklets which accompany ChessBase Magazine and is just as lavishly conceived. If you are looking at a new opening, then in the booklet you will learn a lot about its history, variations and characteristics.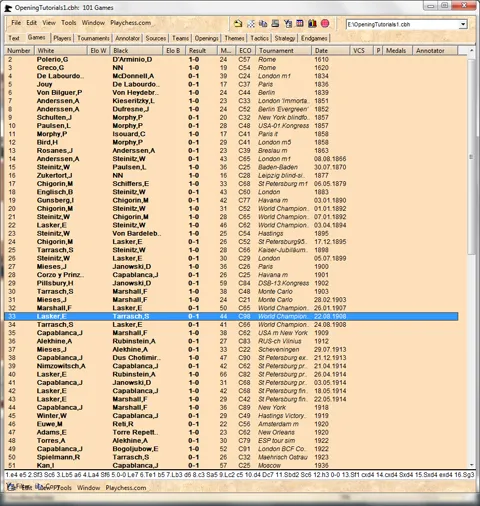 And in conclusion, it would be wrong not to mention the database with its 100 sample games. In these important games from the history of chess tournaments, you will see the openings which are being presented being used as weapons by world class players.
ChessBase Tutorials come with a ChessBase reader program and can thus be used immediately without the need for any other program. If you already own an up-to-date version of ChessBase or Fritz, you can also use it to work with the Tutorial.
Return Information for Software & DVDs
Computer Software and DVDs can only be returned or exchanged if the product is in its original,sealed packaging and has not been installed or used in any way. Once you open the packaging of a Computer Software or DVD title, it can only be exchanged for the same title if the original media is defective. There are NO exceptions to this rule.
Returns & Exchanges
Computer Software and DVDs that come on Physical Media (such as CD-ROMs and DVD-ROMS) can only be returned or exchanged if the product is in its original, shrinkwrapped packaging and has not been installed or used in any way. Once you open the packaging of a Computer Software or DVD title, it can only be exchanged for a new copy of the same title and only if the original media is defective. There are NO exceptions to this rule.

Requires Windows
Pentium III 1 GHz, 2 GB RAM, Windows (Supports XP (Service pack 3), Windows 7, Windows 8, Windows 10), DirectX9, 256 MB graphics card, DVD-ROM drive, Windows Media Player 9 and Internet access for program activation.
Media Mail Eligible
Media Mail® shipping from the US Postal Service is the cost-effective way to ship Books, Software and DVDs. With shipping rates starting at only $5.00, it's the most affordable shipping method available.