BEATING THE FRENCH - Rustam Kasimdzhanov - VOLUME 1
Product Code: WIN0142CB
Description
Over 3.5 hours of instruction from former World Chess Champion
Grandmaster Rustam Kasimdzhanov



Product Description
In the first DVD from his series Beating the French Rustam Kasimdzhanov presents a promising White repertoire based upon 3.Nc3. Topic of this DVD is the position following 1.e4 e6 2.d4 d5 3.Nc3 Bb4 4.e5, in which the pawn on e5 secures the first player a space advantage in the center and on the queenside. In 13 video lessons the author shows how White has to use his trumps to get an attack on the king or a better endgame. During 3.5 hours of analysis, featuring mostly topical games of top grandmasters, Kasimdzhanov conveys valuable knowledge of attacking ideas, typical maneuvers and plans in an easily understandable way.

Rustam Kasimdzhanov. Born in 1979, the grandmaster from Uzbekistan has for many years been known as a very strong and imaginative player. However in 2004 Rustam Kasimdzhanov (pronounced Kah-zeem-jha-nov) shocked the chess world by winning the FIDE world chess championship title, beating a string of world-class players like Ivanchuk, Grischuk, Topalov and Adams in the process. Kasimdzhanov is a very deep player, who is able to explain chess ideas in an eloquent, lucid style, with a fine touch of humor. His lessons are both entertaining and instructive perfect for students who seek to avoid dry theory.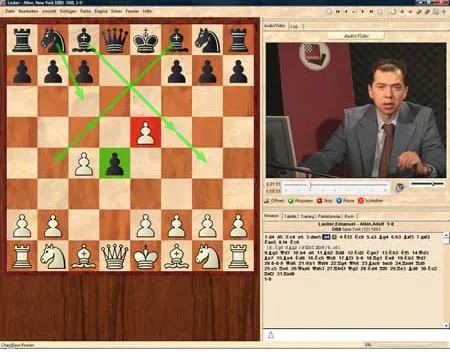 System requirements:
Pentium-Processor at 300 Mhz or higher, 64 MB RAM, Windows XP, Windows Vista, DVD drive, mouse, soundcard.


Returns & Exchanges
Computer Software and DVDs that come on Physical Media (such as CD-ROMs and DVD-ROMS) can only be returned or exchanged if the product is in its original, shrinkwrapped packaging and has not been installed or used in any way. Once you open the packaging of a Computer Software or DVD title, it can only be exchanged for a new copy of the same title and only if the original media is defective. There are NO exceptions to this rule.

Requires Windows
Pentium III 1 GHz, 2 GB RAM, Windows (Supports XP (Service pack 3), Windows 7, Windows 8, Windows 10), DirectX9, 256 MB graphics card, DVD-ROM drive, Windows Media Player 9 and Internet access for program activation.
Media Mail Eligible
Media Mail® shipping from the US Postal Service is the cost-effective way to ship Books, Software and DVDs. With shipping rates starting at only $5.00, it's the most affordable shipping method available.