French Defense Strategy - Nigel Davies
Product Code: WIN0262CB
Description
The French Defence is one of the best choices a player can make for his opening repertoire, especially older players with limited study time. The solid construction of Black's game puts the onus on positional understanding and makes it immune to sharp and tricky variations. The longer you play the French the better you'll play it. On this DVD Nigel Davies explains the strategy behind the French Defence by examining typical pawn structures and explaining the plans and ideas for both sides.

The concepts are illustrated via a series of instructive games allowing the viewer to improve his understanding of this opening whilst watching some entertaining and creative chess being played. After watching this DVD the viewer will understand what to do in typical French Defence middle games and never be at a loss for a plan. It will also make it easier to learn specific variations because these can then be hung on hooks of understanding.


Video Running Time:
4hours
System requirements:
Pentium-Processor at 300 Mhz or higher, 64 MB RAM, Windows XP, Windows Vista, DVD drive, mouse, soundcard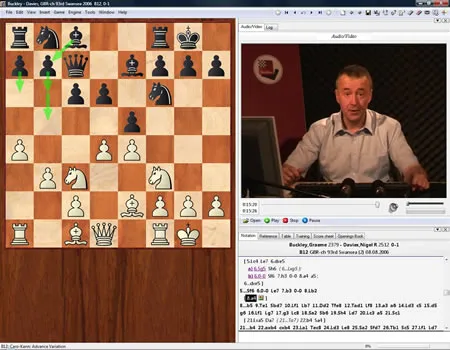 Returns & Exchanges
Computer Software and DVDs that come on Physical Media (such as CD-ROMs and DVD-ROMS) can only be returned or exchanged if the product is in its original, shrinkwrapped packaging and has not been installed or used in any way. Once you open the packaging of a Computer Software or DVD title, it can only be exchanged for a new copy of the same title and only if the original media is defective. There are NO exceptions to this rule.

Requires Windows
Pentium III 1 GHz, 2 GB RAM, Windows (Supports XP (Service pack 3), Windows 7, Windows 8, Windows 10), DirectX9, 256 MB graphics card, DVD-ROM drive, Windows Media Player 9 and Internet access for program activation.
Media Mail Eligible
Media Mail® shipping from the US Postal Service is the cost-effective way to ship Books, Software and DVDs. With shipping rates starting at only $5.00, it's the most affordable shipping method available.