World Champion's Guide to the King's Indian - Rustam Kasimdzhanov
Product Code: WIN0119CB
Description
This disk is a perfect tool for players looking for a complicated battle against 1.d4. The author suggests the King's Indian Defence and shows with a number of examples how realistic Black's chances are in this opening to get a complex structure with the most serious attacking potential.
Apart from theoretical information, the disk also contains structural insights and an array of ideas which will enable you to include this opening into your repertoire – immediately and with tangible success! The extended 2nd edition is based principally on games which have been played in the last three years with, as Black, either the author himself or top King's Indian expert Teimor Radjabov. This has resulted in the creation of a work on the King's Indian which not only gives deep insights into the variations and plans but also presents the most up–to–date state of affairs in this dynamic and active opening.
Video running time: 7 hours
Rustam Kasimdzhanov. Born in 1979, the grandmaster from Uzbekistan has for many years been known as a very strong and imaginative player. However in 2004 Rustam Kasimdzhanov (pronounced "Kah-zeem-jha-nov") shocked the chess world by winning the FIDE world chess championship title, beating a string of world-class players like Ivanchuk, Grischuk, Topalov and Adams in the process. Kasimdzhanov is a very deep player, who is able to explain chess ideas in an eloquent, lucid style, with a fine touch of humour. His lessons are both entertaining and instructive – perfect for students who seek to avoid "dry" theory. A World Champion's Guide TO THE KING'S INDIAN
System requirements: Pentium-Processor at 300 Mhz or higher, 64 MB RAM, Windows XP, Windows Vista, DVD drive, mouse, soundcard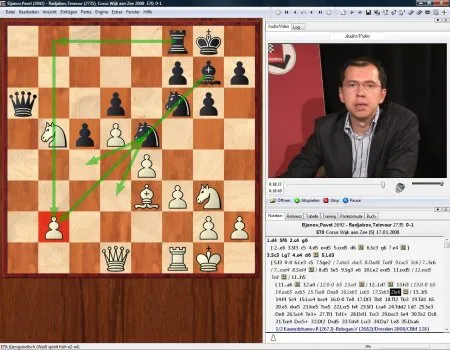 Returns & Exchanges
Computer Software and DVDs that come on Physical Media (such as CD-ROMs and DVD-ROMS) can only be returned or exchanged if the product is in its original, shrinkwrapped packaging and has not been installed or used in any way. Once you open the packaging of a Computer Software or DVD title, it can only be exchanged for a new copy of the same title and only if the original media is defective. There are NO exceptions to this rule.

Requires Windows
Pentium III 1 GHz, 2 GB RAM, Windows (Supports XP (Service pack 3), Windows 7, Windows 8, Windows 10), DirectX9, 256 MB graphics card, DVD-ROM drive, Windows Media Player 9 and Internet access for program activation.
Media Mail Eligible
Media Mail® shipping from the US Postal Service is the cost-effective way to ship Books, Software and DVDs. With shipping rates starting at only $5.00, it's the most affordable shipping method available.

Sample Video