Description
The House of Staunton, in conjunction with the legendary Mechanics Institute Chess Club, is proud to offer the Mechanics Institute Series Chess set. It features a 4.25" King with a 1.875" diameter base. The Chess pieces are hand carved by our master artisans and crafted out of the highest grade woods. The Chess pieces are heavily weighted with luxurious billiard cloth base pads and a rich French Polish finish. These Chessmen are an exact reproduction of the Chessmen that were produced by the Mechanics Institute in 1916 for a simultaneous exhibition by World Champion GM Jose Raul Capablanca, as shown below. This very unique pattern of Chessmen is as playable as it is durable. Here's your chance to own a piece of Chess history!
A PORTION OF THE PROCEEDS FROM THE SALE OF THESE
CHESSMEN WILL BE DONATED TO THE MECHANICS INSTITUTE
As with all of our Chess sets, the Classic Series Chessmen exemplifies a perfect combination of distinct beauty and functionality. It has been designed to withstand the rigors of practical play while maintaining an elegance which has become the hallmark of a House of Staunton chess set. The design, quality and craftsmanship of this set is UNMATCHED by any set of Chessmen in its price range. Nothing even comes close! The Chessmen are new and each set consists of 34 Chessmen, including four Queens, a standard that was introduced by The House of Staunton in 1993.
History of the Chess Pieces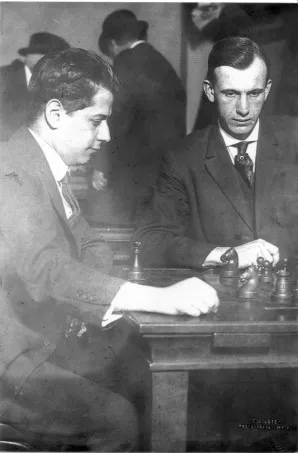 Capablanca and A. J. Fink
Mechanics Institute 1916
From American Chess Bulletin, May-June 1916
When Jose R. Capablanca stepped off the Shasta Limited at Oakland on Monday evening, April 10, and boarded the ferry for the city by the Golden Gate, he made history personally, as it was his first visit to the Golden Gate. It may have been a matter of clairvoyant knowledge that he was soon to make chess history in San Francisco, but of course, that was hidden from the sight of the normal-visioned committee of chess players from the Mechanics' Institute who met the world famous Cuban and escorted him across the bay and to his hotel in San Francisco. The following evening the youthful master made his bow at the Institute, when he faced thirty-two opponents, among whom were the best players of the bay cities (and, of course, some who just moved the pieces around with their hands). When Capablanca vanquished his final opponent shortly after midnight, the score stood: Capablanca, won 29, drawn 3. Messrs. Hallwegen, Chilton and Fink were the three who saved the Institute from a whitewash. Chilton, perhaps, had a win, but he thought any old thing would do. It didn't and the Cuban got away with a draw.
Except for the charm of Capablanca's personality, his entire lack of the "swelled head," and his gentlemanly, courteous bearing, it would have been a far more bitter pill for the Institute players to swallow. During the history of the Mechanics' Institute it has entertained Zukertort, Lasker, Pillsbury, Marshall and several lesser lights of the chess world, but never before has a master been able to get away without the loss of several games during blindfold, simultaneous exhibitions or rapid chess. American Chess Bulletin, May-June 1916"
Jose Capablanca - A.J. Fink — San Francisco (simul) 1916
Queen's Gambit [D07]
1.d4 d5 2.Nf3 Nc6 3.c4 e6 4.Nc3 Be7 5.Bf4 Nf6 6.e3 a6 7.Rc1 0-0 8.Bd3 dxc4 9.Bxc4 Na5 10.Bd3 c5 11.dxc5 Bxc5 12.0-0 Nc6 13.Ne4 Be7 14.Qc2 Nb4 15.Nxf6 gxf6 16.Bxh7 Kg7 17.Qb1 f5 18.Rfd1 Qe8 19.Bxf5 exf5 20.Nd4 Nd5 21.Nxf5+ Bxf5 22.Qxf5 Nxf4 23.Qxf4 Rh8 24.Rc7 Rd8 25.Rxd8 Qxd8 26.Qg4 Bg5 27.Rxb7 Rh4 28.Qf3 Be7 29.b3 Rh6 30.g3 Qd6 31.h4 Rf6 32.Qg4+ Rg6 33.Qf4 Qd1 34.Kg2 Bxh4 35.Qf3 Qxf3 36.Kxf3 Bf6 37.Rb6 Bc3 38.Rxg6 Kxg6 39.Kg4 Kf6 40.f4 Ke6 41.e4 f6 42.Kf3 a5 43.Ke3 Be1 44.g4 Kd6 45.g5 fxg5 46.fxg5 Ke5 47.g6 1/2-1/2
Jose Raul Capablanca
Jose Raul Capablanca, of Cuba, was the 3rd World Chess Champion. He was considered to be a true Chess genius, a natural player that spent very little time preparing for his tournament appearances. Throughout his entire Chess career, he suffered fewer than 50 losses. In 1920, reigning World Champion Lasker resigned his title to Capablanca, saying "You have earned the title not by the formality of a challenge, but by your brilliant mastery." Capablanca refused to accept the title, demanding a match with the World Champion so that he could earn the title through victory over the Chessboard. In 1921, Capablanca had his opportunity at Havana 1921 and soundly defeated Lasker 9.0: 5.0, having won 4 games and drew 5. The feat of winning the world title without losing a game to the incumbent was truly remarkable, one that went unequalled for nearly 80 years.
In 1927, Capablanca faced his main rival Alexander Alekhine for the World Championship title in Buenos Aires, Argentina, whom he had soundly defeated earlier that same year at the New York 1927 Tournament. The match lasted 34 games, with Alekhine emerging victorious after having exhibiting great skill and patience. Years later, Alekhine was asked how he was able to defeat the heavily favored Capablanca. A man of no intellectual modesty, he nevertheless responded, "Even now I cannot explain that."
On March 7, 1942, he was happily kibitzing a skittles game at the Manhattan Chess Club in New York when he collapsed from a stroke. He was taken to Mount Sinai hospital, where he died the next morning. Remarkably, the Cuban's former rival, Emanuel Lasker, had died in that very hospital only a year earlier.