The Marshall Series Analysis Chess Combination
'A classical design that embodies the form, style, and design of the turn-of-the century Staunton pattern Chess sets that were produced by the legendary firm Jaques of London.''
Product Description
Description /
The Marshall Series Analysis Chess Combination
"A classical design that embodies the form, style, and design of the turn-of-the century Staunton pattern Chess sets that were produced by the legendary firm Jaques of London."
The Chessmen
The House of Staunton is proud to offer the Marshall Series Chess set. A full library-sized Chess set, it features a 2.875" King with a 1.375" diameter base. The Chess pieces are heavily weighted with felt base pads on the undersides of the Chessmen. The design of the Marshall Series Chess set captures the form, style, and craftsmanship of the turn-of-the century Staunton pattern Chess that were produced by Jaques of London, a period that is widely regard by Chess collectors as having the finest Staunton Chess sets ever produced. The Marshall Series Chess set is the quintessential Staunton Pattern Chess set, the physical embodiment of the classical design and proportions that have made the Staunton Pattern the standard for all Chess sets. As with all of our Chess sets, the Marshall Series exemplifies a perfect combination of distinct beauty and functionality. It has been designed to withstand the rigors of practical play while maintaining an elegance which has become the hallmark of a House of Staunton chess set. The design, quality and craftsmanship of this set is UNMATCHED by any set of Chessmen in its price range. Nothing even comes close! The Chessmen are new and each set consists of 34 Chessmen, including four Queens, a standard that was introduced by The House of Staunton over 10 years ago. **NOTE** Because of the House of Staunton's commitment to deliver the highest quality products, we use only the finest, non-lead based materials in the manufacturing our plastic Chessmen.
The Chessboard
Our Premium Vinyl Analysis Chessboards - 1.875" Squares were designed specifically for the Marshall Library Series Plastic Chessmen and are ideal for a quick viewing of your game . . . and best of all they fit on smaller desks at school for those rainy days when the kids can't go outside for recess! They are made of quality vinyl and have algebraic notation on all four sides of the board.
16.875 x 16.875

in size
Features rank and file labels on all four sides - ideal for beginners!
Manufactured out of high-grade vinyl and will resist dirt, tearing and spills
Rolls up into a tight tube-shape for easy transport
More Information
PRODUCT SPECIFICATIONS:
| | |
| --- | --- |
| ISBN | Does not apply |
| Weighting | Triple Weighted |
| King Height | 2.875" inch / 7.30 cm |
| King Base Diameter | 1.375'' inch / 3.49 cm |
| Square Size | 1.875'' inch / 4.8 cm |
| Chess Board Footprint | 16.875 x 16.875 inches |
| Median Set Weight | 18.6 ounces |
| Total Number of Pieces | 34 Chess Pieces, including 2 Additional Queens (for Pawn Promotion) |
History of the Chess Pieces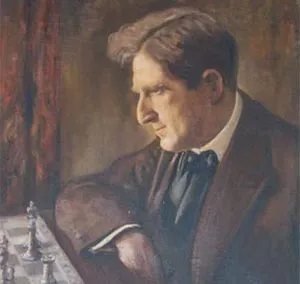 Frank Marshall, of the United States, is considered to be one of the greatest American Chess players ever. He was the United States Chess Champion from 1909-1936, a reign of 27 years that is unlikely to ever be equaled. Frank was one of the original Chess Grandmasters, a title that was granted by Russian Tsar Nicholas II in 1914.
In the 1930's, Marshall captained the US team to four gold medals at four Chess Olympiads. After one round, he returned to the board and found that his comrades had agreed to three draws. After he finished his own game, he gave each of them a stern talk individually on how draws don't win games or matches. They received the message and went on to achieve tremendous Olympic success. The U.S. team has never repeated the great successes of Marshall's teams.
Marshall was best known for his great tactical skill. One aspect of this was the "Marshall swindle", where a trick would turn a lost game around. Not so well known now, but appreciated in his day, was his endgame skill. He is one of the few players who defeated 3rd World Champion Jose Raul Capablanca with the black pieces, in a game that is considered one of the finest displays of endgame mastery ever played.
We found other products you might like!
Product Reviews
Wonderful set for working
A nice plastic set for doing analysis. The triple weighted pieces resist falling over when hit by a sleeve or something when moving other pieces. I feel like I've already got my monies worth out of the set these past couple of weeks.